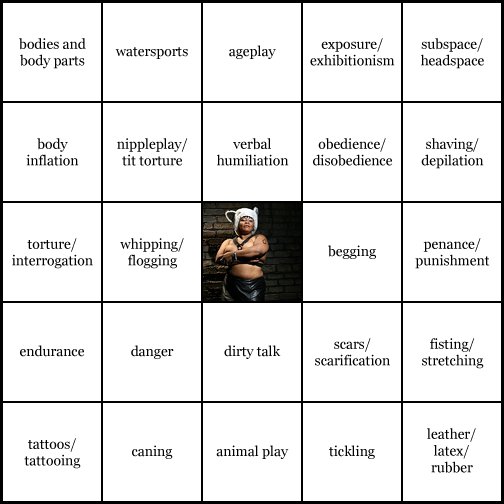 bodies and body parts
Hidan and Shikamaru
watersports
Kisame and Kankuro
ageplay
Shisui and Chouji
exposure / exhibitionism
Sakura and Sakura
subspace / headspace
Danzo and Hizashi
body inflation
Chouji and Suigetsu
nippleplay / tit torture
Sakura and Hinata
verbal humiliation
Suigetsu and Karin
obedience / disobedience
Kakashi and Minato
shaving / depilation
Ino and Tenten
torture / interrogation
Possibly Shikamaru and Hidan
whipping / flogging: Rin and Obito fic: My Lost Dreams
wildcard
Paths of Pein, wet dreams
begging
Hinata and Sasuke
penance / punishment
Sakura and Sasuke
endurance
Sasori and Lee or Gai
danger
Sakura and Orochimaru
dirty talk
Sasuke and Itachi
scars / scarification
Iruka and Ibiki
fisting / stretching
Iruka and Itachi
tattoos / tattooing
Haku and Obito
caning
Iruka and Naruto
animal play
Kiba and Orochimaru
tickling
Kotetsu and Izumo
leather / latex / rubber
Obito and Gai
OT4 where team 7 goes after Kakashi as a unit.
Sakura and Yamato relationship.
Individual relationships among Team 7 with Sai and Yams.
Kakashi and Gai
Obito and Gai
Other pairings.
WRITE THE THING ME, WRITE IT.